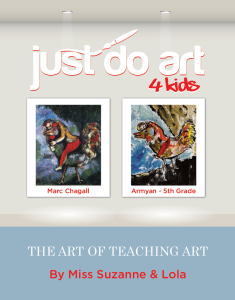 JUST DO ART ™
What's Inside!
Back to the beginning with cave drawings.
Draw like an Egyptian.
To smile or not to smile Leonardo da Vinci.
Under the table with Michelangelo.
Twinkle twinkle little star with Vincent van Gogh.
Longing for Modigliani.
Primary colors with Marc Chagall.
Frida's faces collage with Frida Kahlo.
Movement through color with Paul Klee.
Color moods with Peter Max.
Plus, student art gallery.
---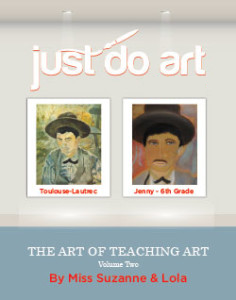 Volume Two
What's Inside!
Back to Byzantine
Myth Mythology
Portraits with Toulouse Lautrec
The science of a dot with Georges Seurat
Super Hero's with Flossie Klotz
Not so negative – Print Making
Recycled Alden Marin
Right (not so wrong) Brain Drawing
Original Selfies
Elvis Has Left the Building